Custom Granulation of Organic Materials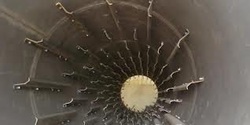 Our granulating partner uses state of the art technology to produce a low dust, high density granule in a broad variety of formulations suited to both agricultural and horticultural applications. The low temperature (135 degrees f) process is environmentally sound and helps to ensure viability for biological products. No animal byproducts are processed through our granulators eliminating the possibility of e coli and salmonella contamination.
We stock a wide variety of raw material supplies in house to custom craft the product to your specific needs. Our specialty is biological formulations, we work with the worlds leading producers of biological products to assure fresh and viable biological inputs. Low minimum orders allow for custom runs as low as 20 tons!

Our core product, O.M. SuperHumus is an exceptional base for biological formulas on a high density, stable granule. Granulation stabilizes the biology in the product and allows for the passage of O.M. SuperHumus through standard rotary spreaders. The resulting 90% Organic Matter granule can be used as a standalone "granulated humus" or custom formulated with additional biology to suit a variety of applications. The carbon rich granule provides the ultimate food resource for biological inputs after they have been applied to the soil, enhancing colonization and improving results. Our custom planting formulas are currently in use by leading horticultural professionals nationwide.

Contact us today to speak with a product formulation specialist.

---